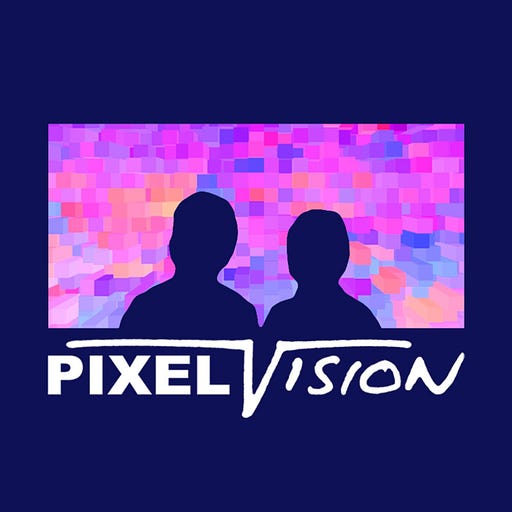 May 29, 2022 • 57M
E39 Overboard!
It wasn't me. And you didn't see me in the shower.
Video game commentary and analysis, fresh from the screen, from hosts Ben Garman and Tao Sharma
Danger lurks as Ben and Tao figure out not just how to get away with murder, but how to do it with aplomb, in Inkle's inverted murder mystery whodunit - (we did!) - Overboard! As well as discussing the various solutions and outcomes of the tricksy puzzler, the pair discuss the innovative use of time, repetition as both an obstacle and invitation to discovery, player knowledge to supplement character knowledge and whether there's method to Inkle's madness. Plus, Pixel Vision make a special announcement…  Spoilers upon spoilers. This game would be nearly impossible to discuss without game critical reveals. If you like the sound of it from the intro, it's recommended you play before listening.
Content Warning: PEGI 12. Seduction and saucy behaviour, but nothing graphic (in the game, Tao and Ben are platonic as ever). Delightfully sociopathic murders depicted through comedic text snippets (also in the game. Ben and Tao are alive and well. At the time of writing).
Clarifications:
You may hear us refer to the main character, Veronica Villensey, as Villensley, with an L. This is an error. Ben regrets this error. Tao says "it might as well be the same name".

Much of the music is performed by the US Army Band, US Army Blues, US Army Strings and The Dixieland Band of the US Army Band's Jazz Ambassador and includes:

Flight of the Bumblebee

Coventry Carol

Souvenir De Florence Mvt 1

Main Stem

Kelli's Number

Stardust

Bugablue

Bayou Farewell

The a cappella group Ben references is not The Inkspots, it's ​Birmingham Jubilee Singers, singing Pharaoh's Army Got Drowned

Ben mentions the love poems and at the time of recording hadn't figured out their usage. They are relevant to a playthrough achievement dubbed 'The Leap of Faith'.

Despite many endings and achievements discussed here, there are many more!

The Ordeal of Gilbert Pinfold is a novel by Evelyn Waugh (1957)

Here's evidence of Ben's fastidious note-taking:
Audio extracts:
Knives Out! (String Quartet in G Minor) by Nathan Johnson

Death on the Nile (ITV's Poirot)

Deathloop Theme by Tom Salta

Palm Springs (2020)

The Simpsons - Marge joins the Springfield Police
Bright Young Things (2003)

Heaven's Vault OST - Before the Fall by Laurence Chapman

80 Days OST by Laurence Chapman

Former British PM, Gordon Brown, calling a lady a 'bigoted woman' in 2010

Leon Bridges - If It Feels Good (Then It Must Be)

Gomez - Meet Me In The City

Rounders (1998) feat. John Malkovich

The Godfather (1972)

Louis Prima - Sing, Sing, Sing (With a Swing)

Dixieland One-Step by Sidney Bechet

Django Reinhardt - Sweet Georgia Brown

Open a Breach from the Into The Breach OST by Ben Prunty

Dexter - Blood Theme by Daniel Licht

Main Stem by Duke Ellington & His Famous Orchestra

Psycho (1960)

Beethoven - Moonlight Sonata 

Handbags and Gladrags arr. by Big George from The Office (UK) (2000)

Star Wars - Imperial March (Apashe Remix)

I Love You, Man (2009) - 'Ridonculous'

Rachmaninoff plays Prelude in C Sharp Minor
Substack: Sign up free to read our reviews and commentary at www.pixelvision.net
Twitter: @pixelviz
Email: pixelvisionpodcast@gmail.com